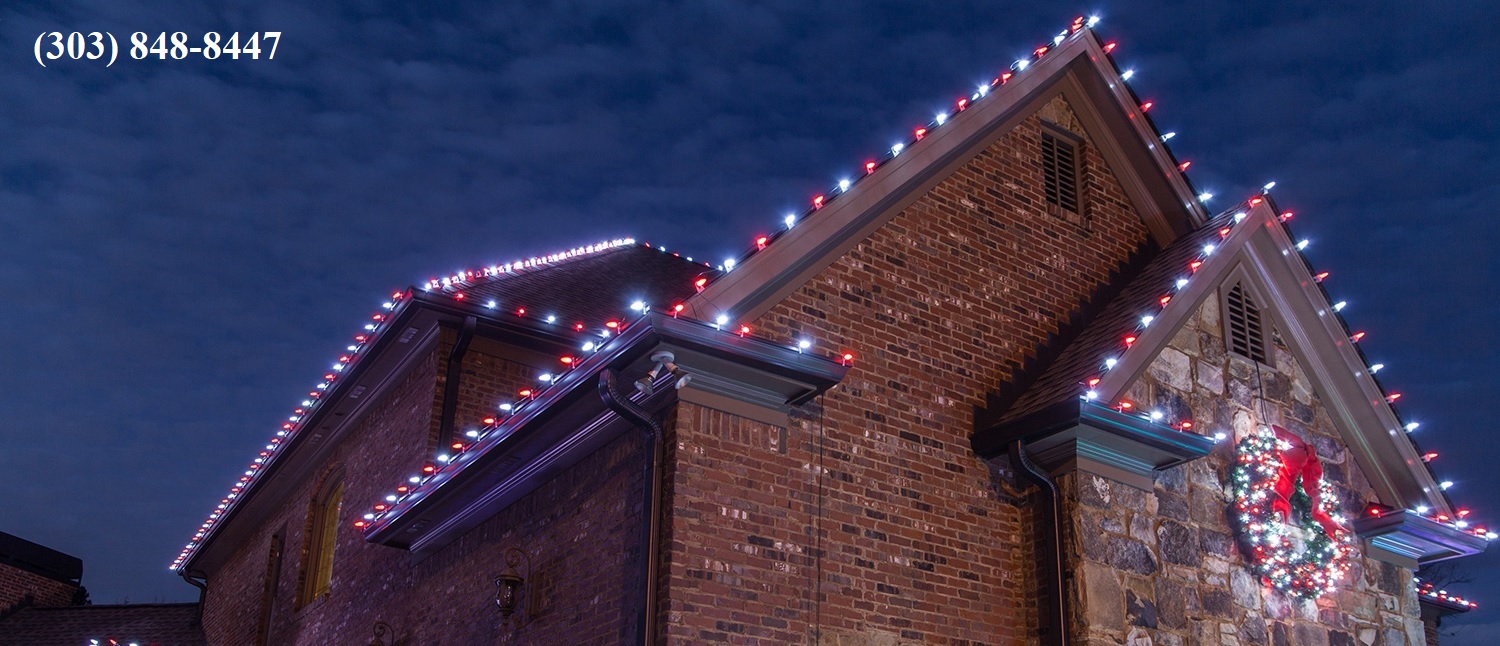 As the holiday season approaches, the twinkling lights and festive decorations adorning homes become a hallmark of the festive spirit. Yet, the task of hanging Christmas lights can be time-consuming, challenging, and even dangerous for many homeowners. 
We offer professional Christmas light hanging services in the Denver metro that are affordable, quick and easy.  Whether you are looking for a few strands on your roofline or you want to have the biggest holiday lights display on the block - we can help!  Give us a call to schedule your no hassle free estimate for Christmas Light Hanging in Denver (303) 848-8447.
Types of Christmas Light Hanging Services We offer the Denver Metro
Residential Installation Services: These services cater to homeowners seeking a hassle-free way to decorate their homes for the holidays. Trained professionals handle every aspect, from designing the lighting layout to securely attaching lights to roofs, windows, and trees. This type of service ensures a safe and spectacular light display while saving homeowners from the risks of climbing ladders or handling electrical components.

Commercial Display Services: Businesses and commercial spaces often aim to create a captivating holiday atmosphere to attract customers and boost sales. Commercial Christmas light hanging services specialize in large-scale decorations that demand intricate designs and meticulous execution. From shopping malls to office buildings, these services provide eye-catching displays that enhance the overall holiday experience for visitors.

Customized Design Services: For those seeking a unique and personalized touch in Denver, customized design services are a perfect choice. These services work closely with clients to understand their preferences, themes, and visions. The result is a one-of-a-kind holiday lighting display that reflects the homeowner's personality and style.

Energy-Efficient Lighting Services: With increasing environmental concerns, many homeowners are opting for energy-efficient Christmas lighting options. Energy-conscious services utilize LED lights and smart lighting technologies to create dazzling displays that consume significantly less energy. This approach not only reduces the environmental footprint but also cuts down on electricity costs.

Maintenance and Removal Services: The post-holiday phase can be as daunting as the setup itself. Maintenance and removal services take care of the dismantling process, ensuring that lights are properly stored for the following year. This convenience saves homeowners time and effort and guarantees the longevity of their investment.

Event Lighting Services: Holiday parties, community events, and corporate gatherings often require professional lighting to set the mood. Event lighting services specialize in transforming venues into winter wonderlands, providing an enchanting backdrop for festivities in Denver.

Smart Lighting Integration: In the era of smart homes, integrating Denver Christmas lights with home automation systems has become increasingly popular. Smart lighting services offer the ability to control and schedule the lights remotely through smartphones or voice commands. This innovation adds convenience and a modern touch to holiday decorations.
The demand for Christmas light hanging services in Denver has grown exponentially as people seek professional assistance to create stunning holiday displays without the hassle and risks involved. From residential installations to commercial spectacles, these services cater to various preferences and requirements, ensuring that homes and businesses are adorned with festive brilliance during the holiday season. Whether it's a classic design, an energy-efficient approach, or a technologically advanced display, Christmas light hanging services offer a range of options to help everyone in Denver celebrate the most wonderful time of the year.